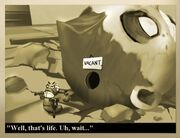 Zombie Fred is sweet and tender pile of decaying flesh. According to the maggot family that dwells on his skull. He was voiced by Lucien Dodge. He has the same voice as Nello from Speed Of Magic and Wreck-It Ralph 2 (FALL 2014).
Ad blocker interference detected!
Wikia is a free-to-use site that makes money from advertising. We have a modified experience for viewers using ad blockers

Wikia is not accessible if you've made further modifications. Remove the custom ad blocker rule(s) and the page will load as expected.