This is the 3rd screenshot of Speed Of Magic as seen in Ferrari World Abu Dhabi and San Lorenzo Place by Empire East in Olivia Said "Yes!" at EDSA signboard.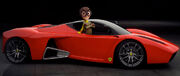 Ad blocker interference detected!
Wikia is a free-to-use site that makes money from advertising. We have a modified experience for viewers using ad blockers

Wikia is not accessible if you've made further modifications. Remove the custom ad blocker rule(s) and the page will load as expected.