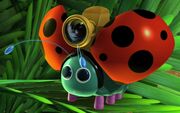 Shutterbug is Oso's ladybug-shaped robotic camera who keeps an eye on kids who need help, then activate the emergency signal. Satellite system distress signal obtained release from Shutterbug then hosted, move to the Oso's location and landing the signal. There are different colored Shutterbugs. Oso's Shutterbug is red; Wolfie's Shutterbug is blue; and Dotty's Shutterbug is pink.
Ad blocker interference detected!
Wikia is a free-to-use site that makes money from advertising. We have a modified experience for viewers using ad blockers

Wikia is not accessible if you've made further modifications. Remove the custom ad blocker rule(s) and the page will load as expected.