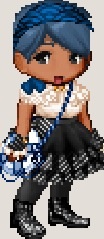 Nicki is an African-Indian girl who wants to make chocolate chip cookies for her friend Madeline. She appears in the sixth episode named,"On Her Friend's Special Cookies" and it is coming in November 2014.
Appearance
Edit
She wore a luxury gamer dress,a gold armor gloves,a black gamer boots with black leggings,a headphone on her neck,an ice blue bag and a blue Indian headband. She has a short black hair and she has a brown skin. She is a tomboyish gamer little girl.
Ad blocker interference detected!
Wikia is a free-to-use site that makes money from advertising. We have a modified experience for viewers using ad blockers

Wikia is not accessible if you've made further modifications. Remove the custom ad blocker rule(s) and the page will load as expected.