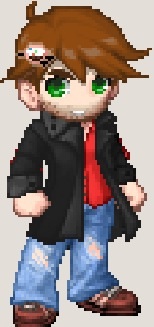 Lars is an American-European boy who wants to make breadsticks for his twin sister Anita. He appears in the seventh episode named,"Breadsticks Are Forever" and it is coming in January 2015.
Appearance
Edit
He wore a light black dashing coat,a scarlet red shirt,a light detergent ripped jeans,and a red hot shoes. He has a brown hair and he has a peach skin. He is a skater little boy like his twin sister Anita.
Ad blocker interference detected!
Wikia is a free-to-use site that makes money from advertising. We have a modified experience for viewers using ad blockers

Wikia is not accessible if you've made further modifications. Remove the custom ad blocker rule(s) and the page will load as expected.