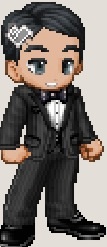 Jhung-Max is a Mexican-Korean boy who wants to order Mexican foods. He appears in the fourth pilot episode named,"For Mexico With Love" and it is coming in October 2014.
Appearance
Edit
He wears a black tuxedo with black bow tie,a shiny tuxedo shoes,and a men's hair clip. He has a black hair and a warm skin.
Ad blocker interference detected!
Wikia is a free-to-use site that makes money from advertising. We have a modified experience for viewers using ad blockers

Wikia is not accessible if you've made further modifications. Remove the custom ad blocker rule(s) and the page will load as expected.