Amanda Hamada


Vital statistics
Title
Amanda Hamada
Gender
Female
Race
Human
Faction
Big Hero 6 2 (2018)
Health
N/A
Level
Good, later bad
Status
Alive, soon deceased
Location
San Fransokyo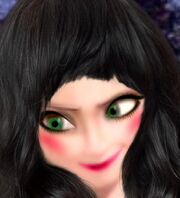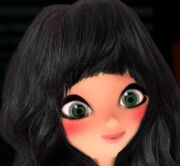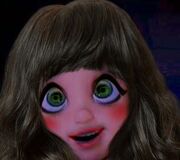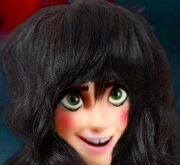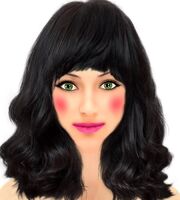 Oh,Amanda Hamada is my cousin.
She can kiss me and she can hug me.
She loves me because she is my girlfriend.
Amanda Hamada was voiced by Kristen Wiig,while Ariel Winter as young Amanda and Dakota Fanning as 9-year old Amanda.
She will appear in Big Hero 6 2 coming in 2018.
At the end of the film in Big Hero 6 2,she became bad because she will not be the cousin and crush of Hiro Hamada and she'll kill all high-tech heroes from San Fransokyo.
Full Name: Amanda Long Hamada
Japanese Name: あまだ 炉 浜田
Customization Appearance: Slender,13-years old,pretty,emo/gothic,fair skin,long black hair,green eyes,a pure white sundress,a pure white shoes with little silver diamonds on it
Species: Human
Gender: Female
Age: 13,9 (as a pre-teen),5 (as a child)
Birthday: unknown
Sign: unknown
Alignment: Good,later bad
Mother: unknown
Father: unknown
Siblings: Hiro Takachiho Hamada (cousin),Ina Long Frost (11-year old sister),Rachel Long Haddock (15-year old sister),Amelia Long Corona & Diana Long Queen (stepsisters),Jennifer Long Campbell (stepmother),Edward Long Fredricksen (stepfather),Chelsea King Richardson (classmate),Ashley Smith Hamada (roommate),Soo-Kim Sanchez Cheng (babysitter),Sarah Hall Morris (ancestor),Barry Long Gomez (older brother),Dani Long Moore (older sister)
Crush: Hiro Takachiho Hamada
Allies: unknown
Enemies: Hiro Takachiho Hamada,Baymax,Honey Lemon,Wasabi No Ginger,Fredzilla,GoGo Tomago
Status: Alive,soon deceased
Likes: Kissing Hiro Hamada!
Dislikes: Killing Hiro Hamada!
Appearances: Big Hero 6 2 (2018)
Voice: Kristen Wiig,Ariel Winter (young Amanda Hamada),Dakota Fanning (9-year old Amanda Hamada)
Galleries Of Amanda Hamada
Edit
Ad blocker interference detected!
Wikia is a free-to-use site that makes money from advertising. We have a modified experience for viewers using ad blockers

Wikia is not accessible if you've made further modifications. Remove the custom ad blocker rule(s) and the page will load as expected.